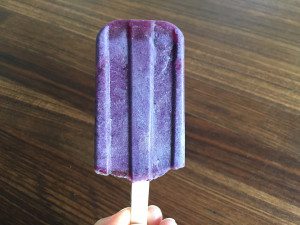 Place all ingredients in a blender.

Blend on high for 2 minutes.

Pour liquid into popsicle molds. Add sticks to each mold.

Put in freezer overnight.
The blueberry popsicle is very mild and not too sweet. My toddler loved it! Change up your fruit! Try with strawberries, raspberries, pineapple and more! You won't even need a sweetener with the pineapple. Use organic ingredients if possible. Be sure to buy coconut milk cans that are BPA-free. I like Natural Value because there are no preservatives or additives! Just coconut and water.